WATER & WATER RESOURCES FORUM 2023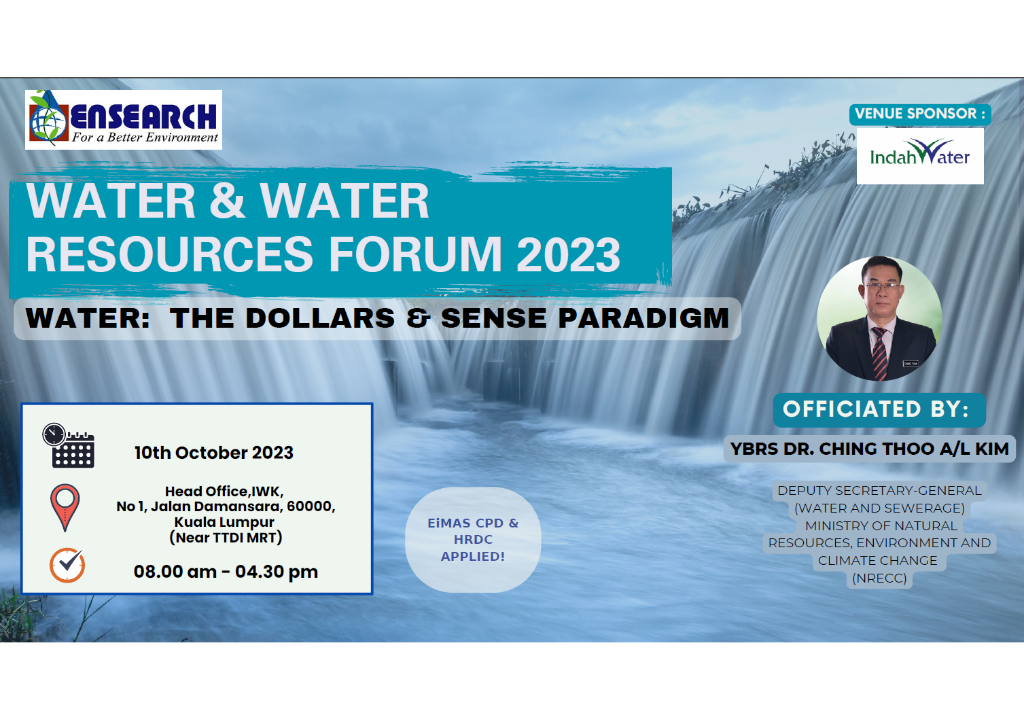 ENSEARCH Malaysia proudly organized the WATER & WATER RESOURCES FORUM 2023. The theme of this forum is Water: The Dollars & Sense Paradigm.
This significant event is expected to bring together Business Leaders, Decision Makers, Businesses, Industry Players, Consultants, Regulators, Researchers, Governments, Policy Makers, Academia, NGOs and Analysts involved in or are concerned about sustainability and environmental management in Malaysia and the entire region.
The details of this Forum are as follows:
Date: 10th October 2023
Time: 8.00 am – 4.30 pm
Venue: Head Office,IWK, No 1, Jalan Damansara, 60000, Kuala Lumpur
Participation Fees:
✅Members/NGO: RM 300.00
✅Non-members: RM 350.00
✅Student: RM 250.00
✅Combo(with ENSEARCH membership): RM 450.00
Register Here: https://forms.gle/c94jNZx7BMUudGfy9
Download Full Brochure Here : https://www.ensearch.org/wp-content/uploads/2023/09/WATER-WATER-RESOURCES-FORUM_Brochure-Updated-3_13.9.2023.pdf
Turn your Ideas into action! Join us to share ideas during the Dialogue Session, to move towards Change!
Hurry Don't Miss The Chance! F&B Included!
For further inquiries, contact the Project Officer at email po@ensearch.org or at 03-61569807
Thank you
#Water #Water Resources #Safewater