Overview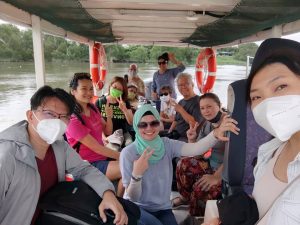 The SMG River Taxi is a community-inclusive project in collaboration with the local fishermen to revitalise economic activity and bring an additional source of income for them, besides attracting more people-centric activities to the area. SMG is kick-starting this project with the River Educational Trip programme. Beginning at Taman Awam Pangkalan Batu, commuters can now go downstream all the way to Mangrove Point near Port Klang and beyond, or upstream to Sg Muda in Shah Alam.
During the trip, you will see diverse flora and fauna along the river, communities living by the river and various cleaning efforts that have been done since 2016. You will be able to take a closer look at the two magnificent pieces of art that are the Interceptor 002 and Interceptor 005. Consider visiting the log boom at Sg Pinang where plastic bottles are segregated from the trash collected, so that these bottles can be recycled through the Nestlé Malaysia waste recovery pilot project.
Experience
Either during the beginning of the trip or the end of the trip at Pangkalan Batu, you will also be able to experience Taman Awam Pangkalan Batu. The key attraction here is the Educational Wetland whereby visitors can see how plants are able to organically purify the water from Sg Klang by filtering out the impurities. This serves as a good place to educate the community and stress on the importance of preserving nature and the source of water to homes and businesses.
Goal
The goal of this River Educational Trip is to raise awareness on river pollution and how much effort is needed to remove the trash that ends up in the river. The trip also highlights how essential the river is for the livelihood of many people as well as for the survival of flora and fauna. Efforts such as installing log booms and the Interceptor only remove trash from the river – they do not stop the root problem, which is trash ending up in our waterways. That responsibility falls on us – and together, we must make Sg Klang clean once again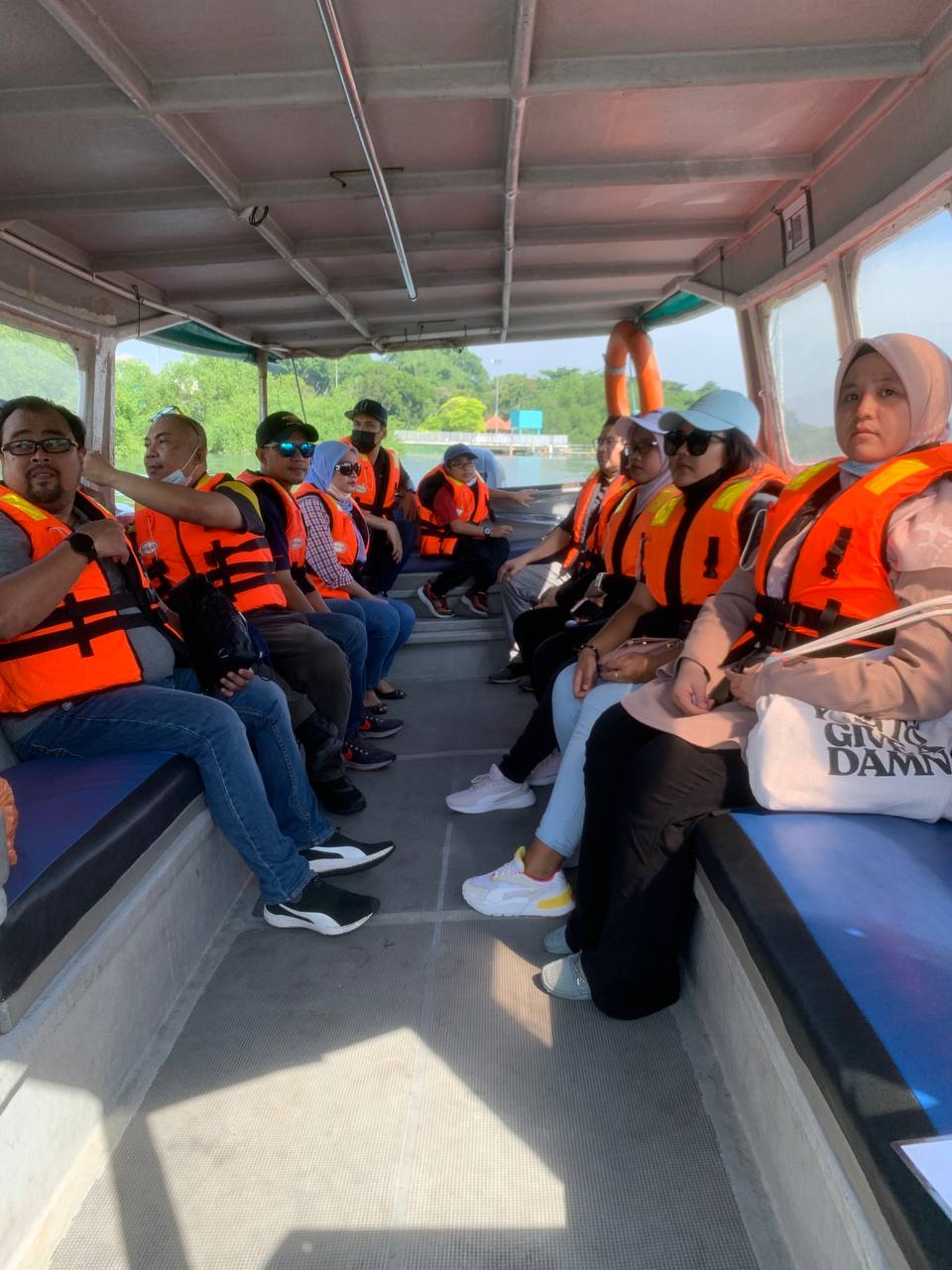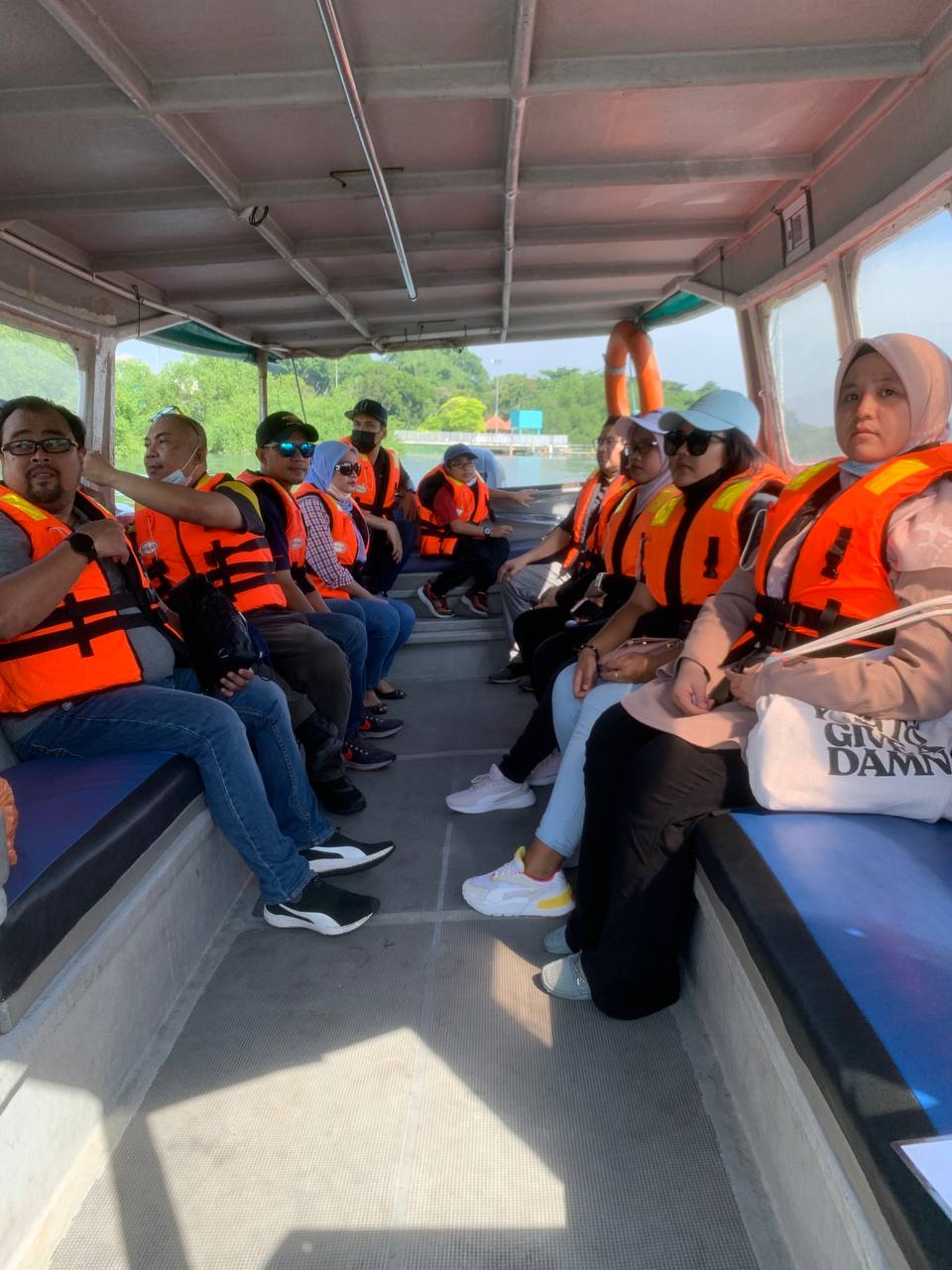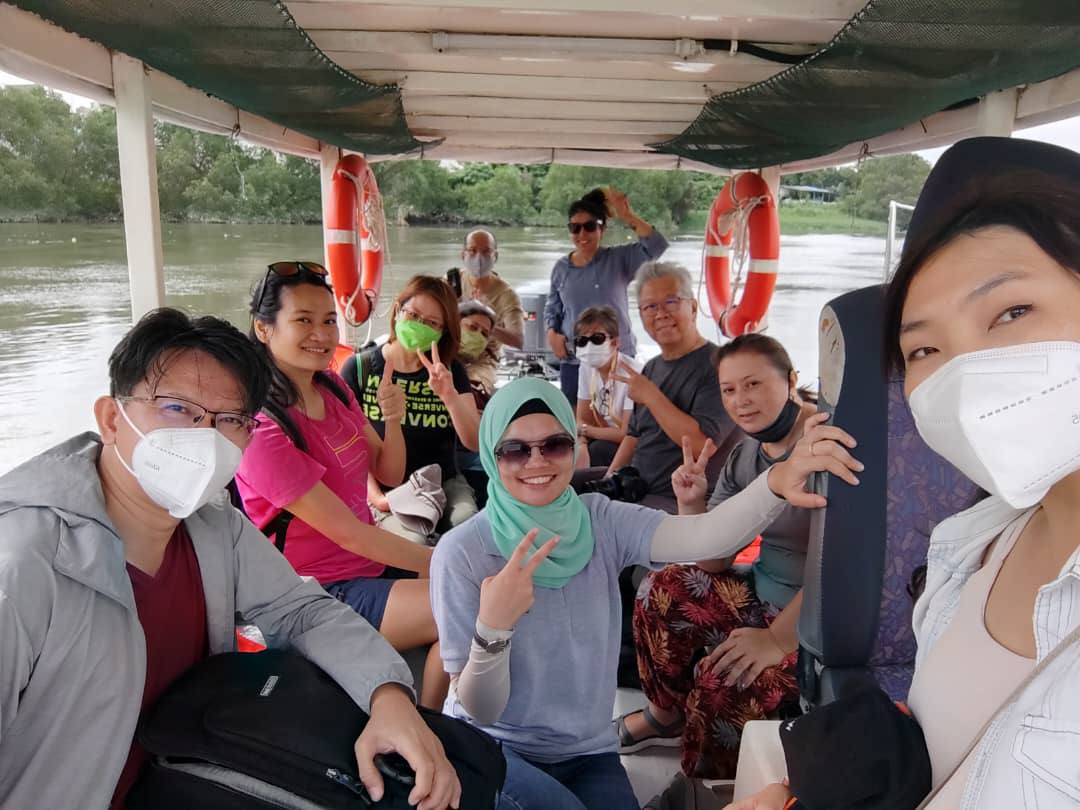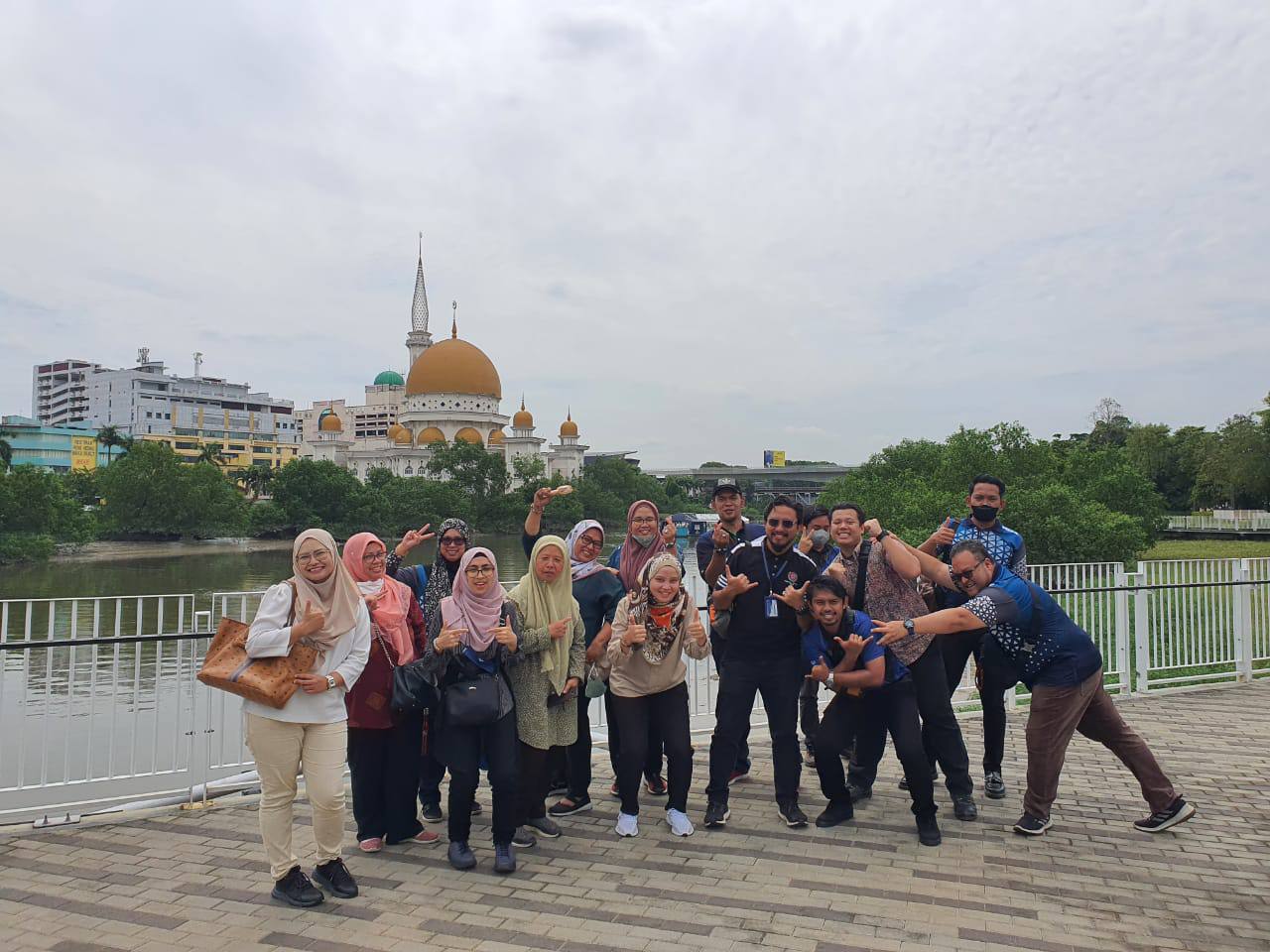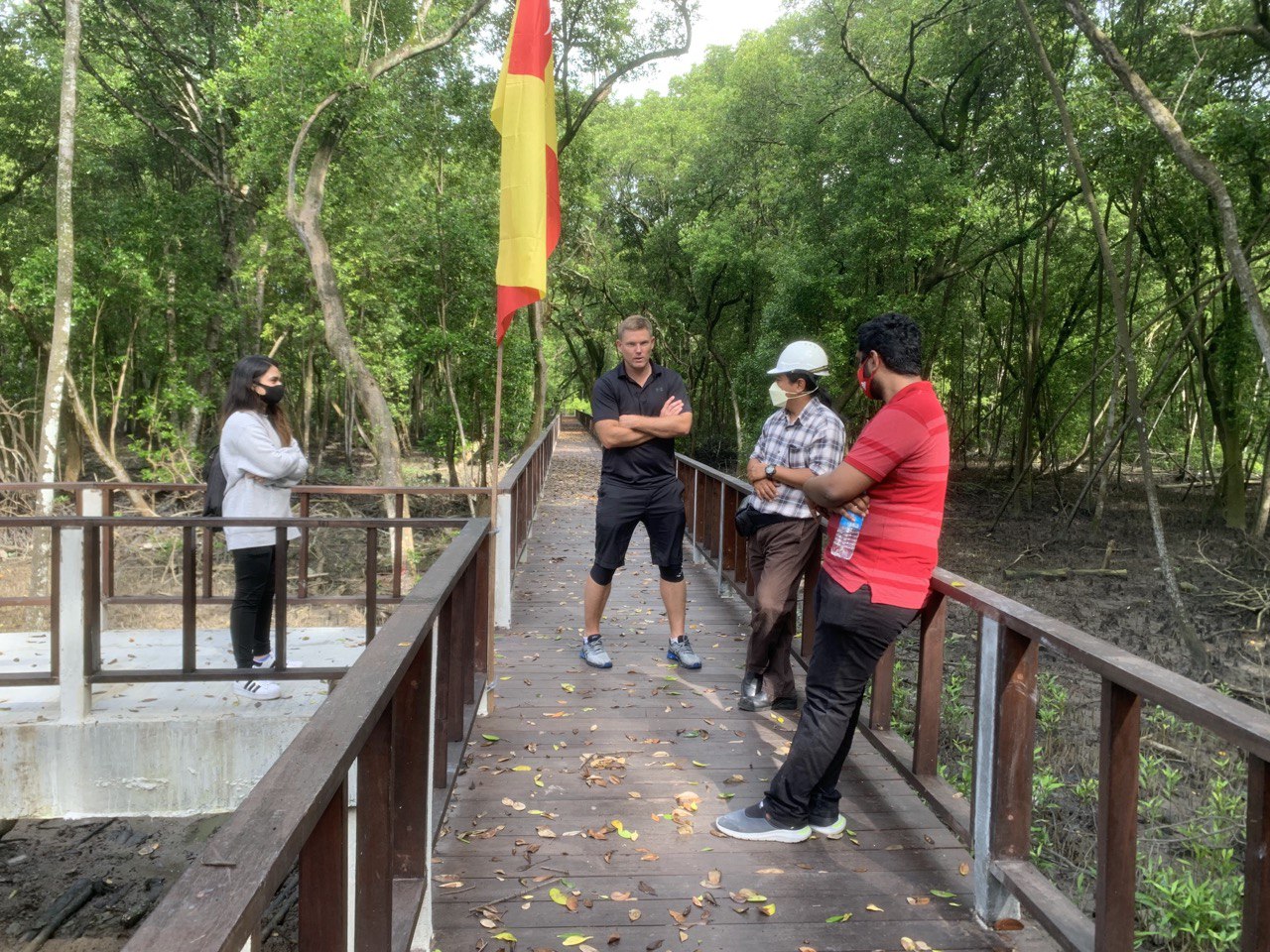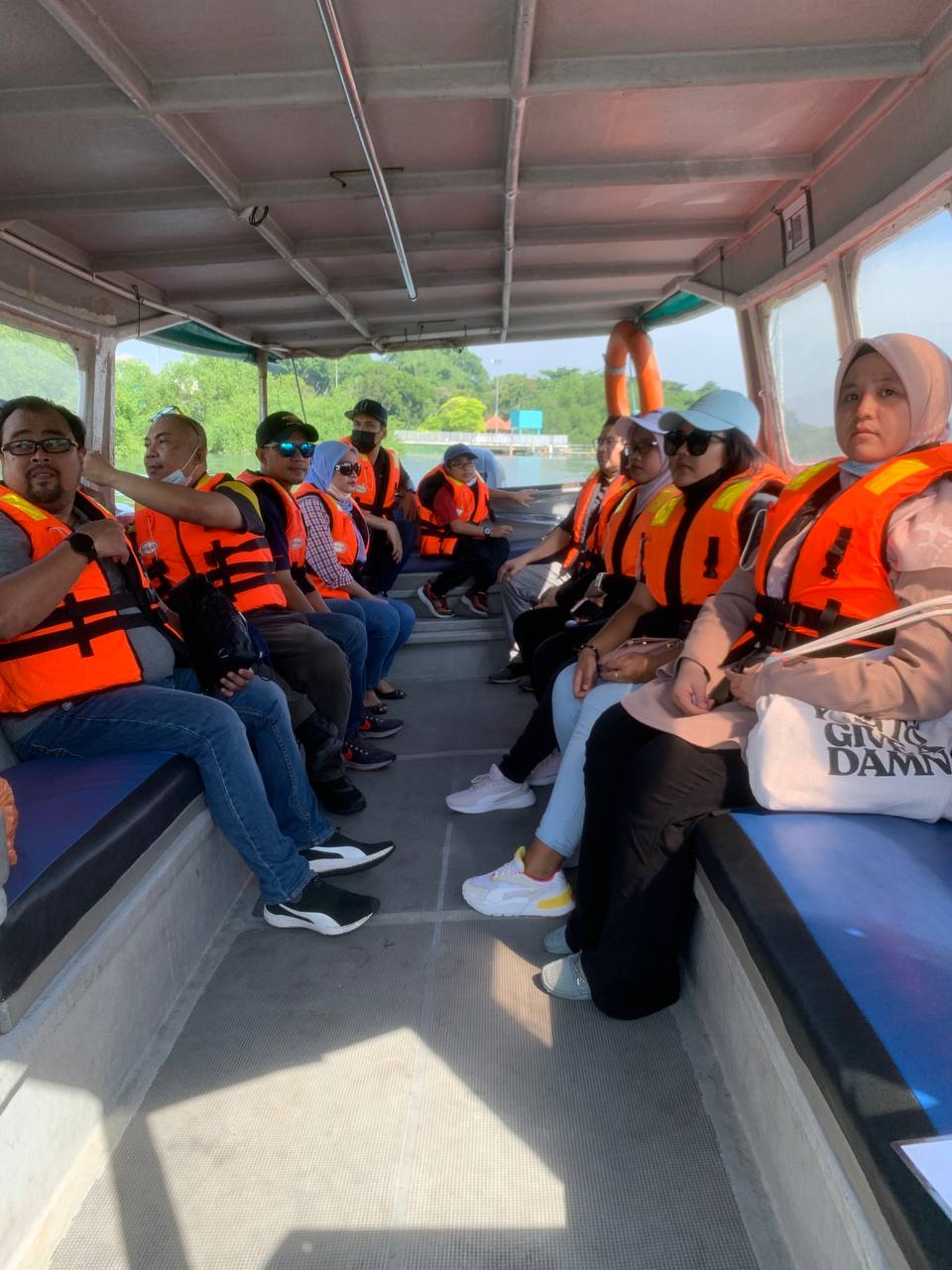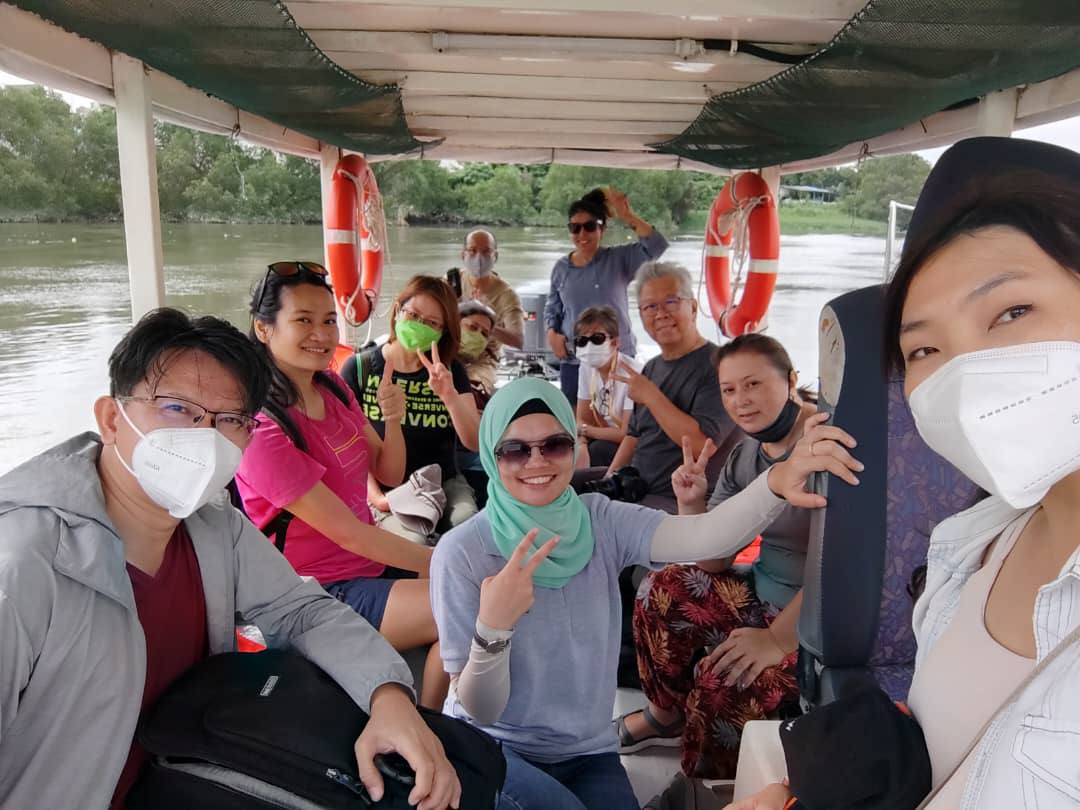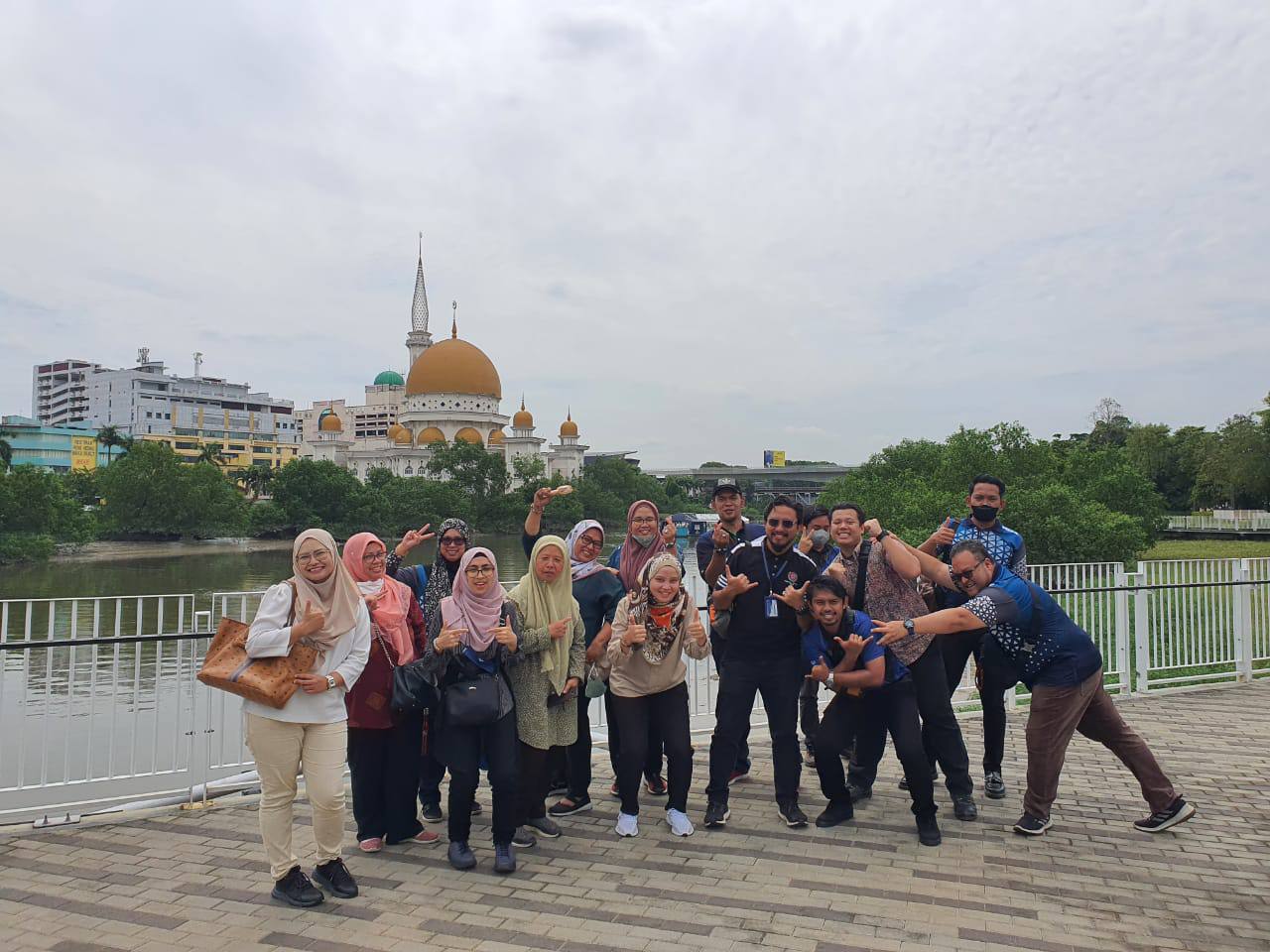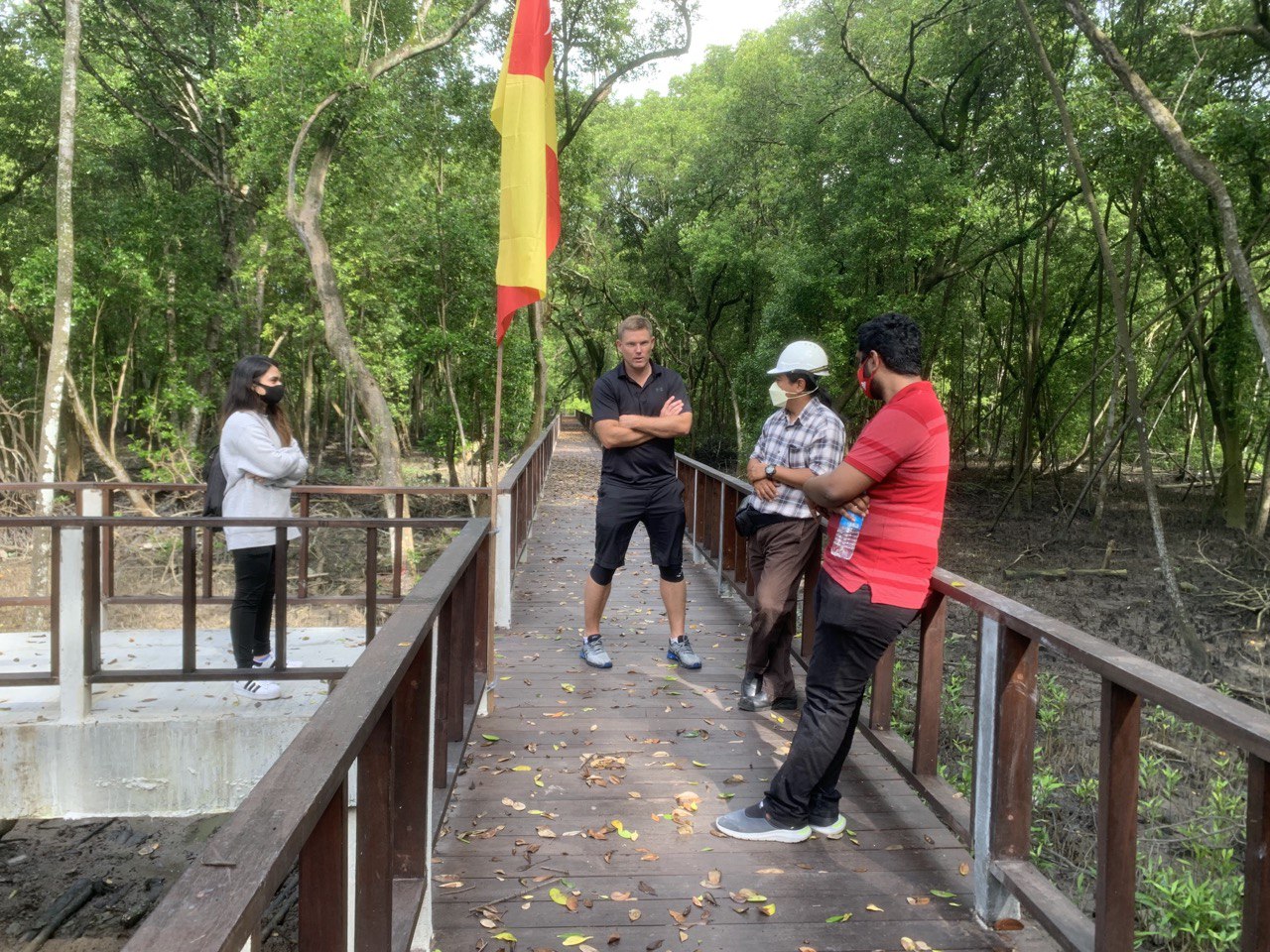 Route
Fisherman Jetty Sungai Sireh, Klang
Fisherman Jetty Sungai Delek, Klang
River Educational Trip Info Pack
Itenerary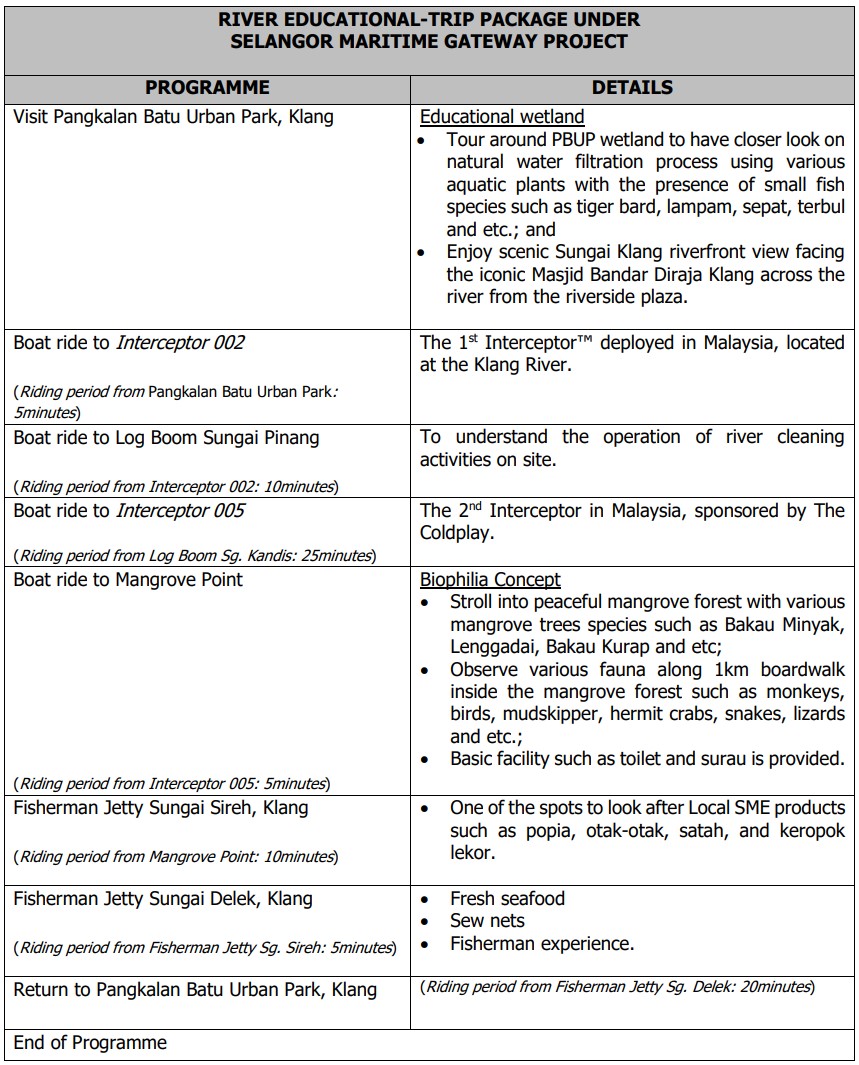 Ticket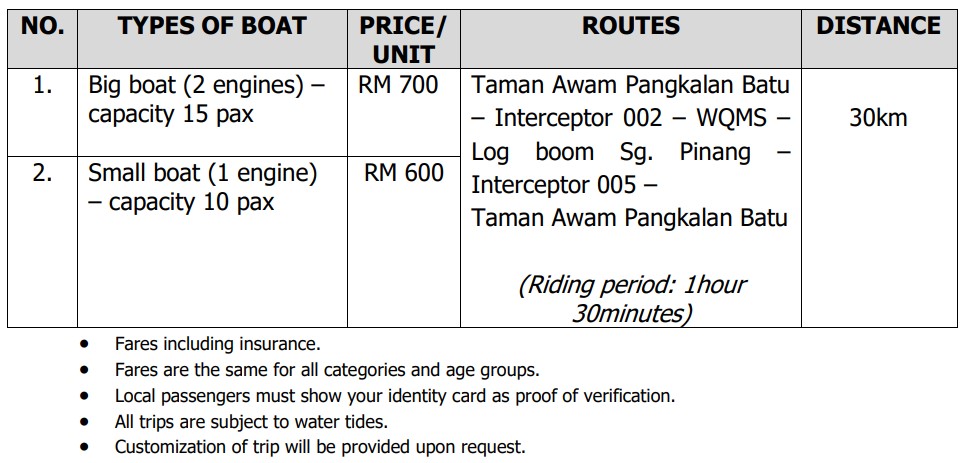 DOs & DON'Ts
NO plastic bottles / containers are allowed. Please bring your own water bottle and
feel free to refill it with us.
Please ensure that mask is worn at all times except during a food break.
Please wear shoes and strictly no slippers.
Dress properly and accordingly.
Do not remove your safety jacket while on the boat.
Children aged 12 or below, should be accompanied by parents/ guardians.
The number of pax per boat shall not exceed the maximum allowed capacity
Aturacara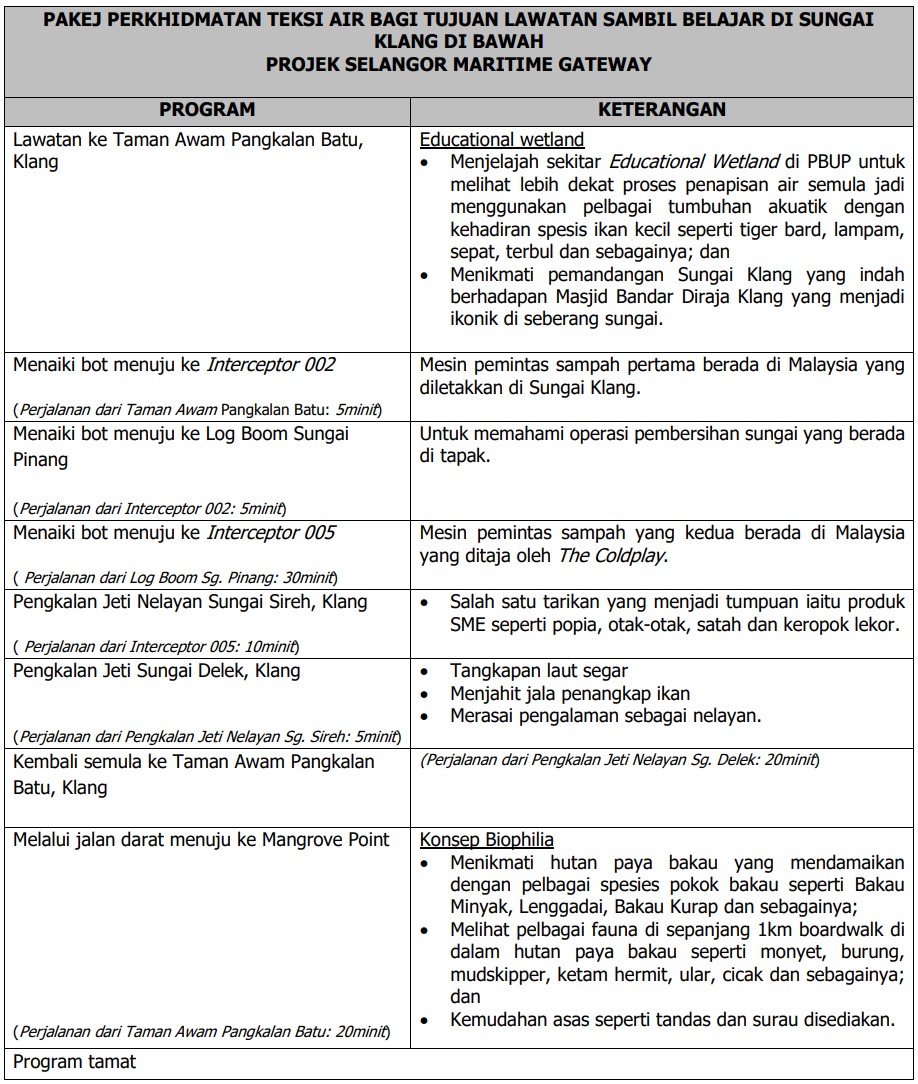 Tiket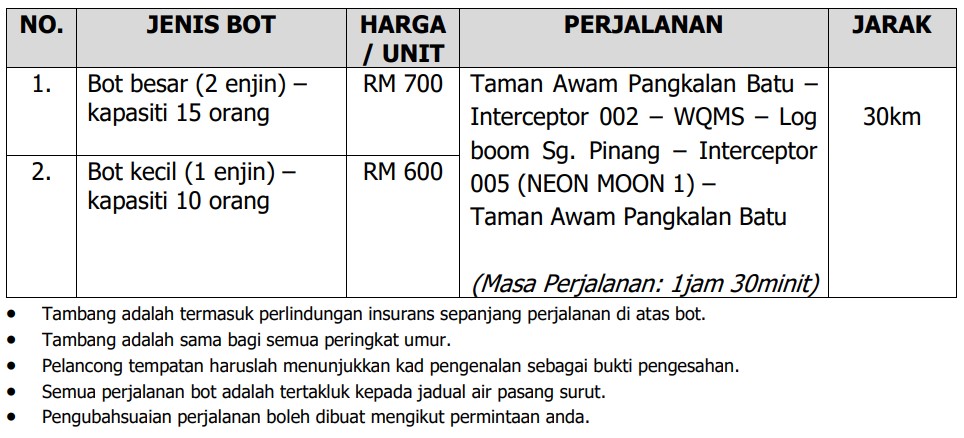 Tatacara
Botol / bekas plastik adalah TIDAK dibenarkan. Sila bawa botol minuman anda
sendiri dan anda dijemput untuk mengisi semula minuman anda dari kami.
Sentiasa memakai pelitup muka.
Berkasut sahaja. Memakai selipar adalah TIDAK dibenarkan.
Memakai pakaian yang sesuai dan sopan.
Sentiasa memakai jaket keselamatan semasa di atas bot.
Kanak-kanak di bawah umur 12 tahun perlulah bersama ibu bapa / penjaga.
Bilangan penumpang haruslah tidak melebihi kapasiti bot
News & Updates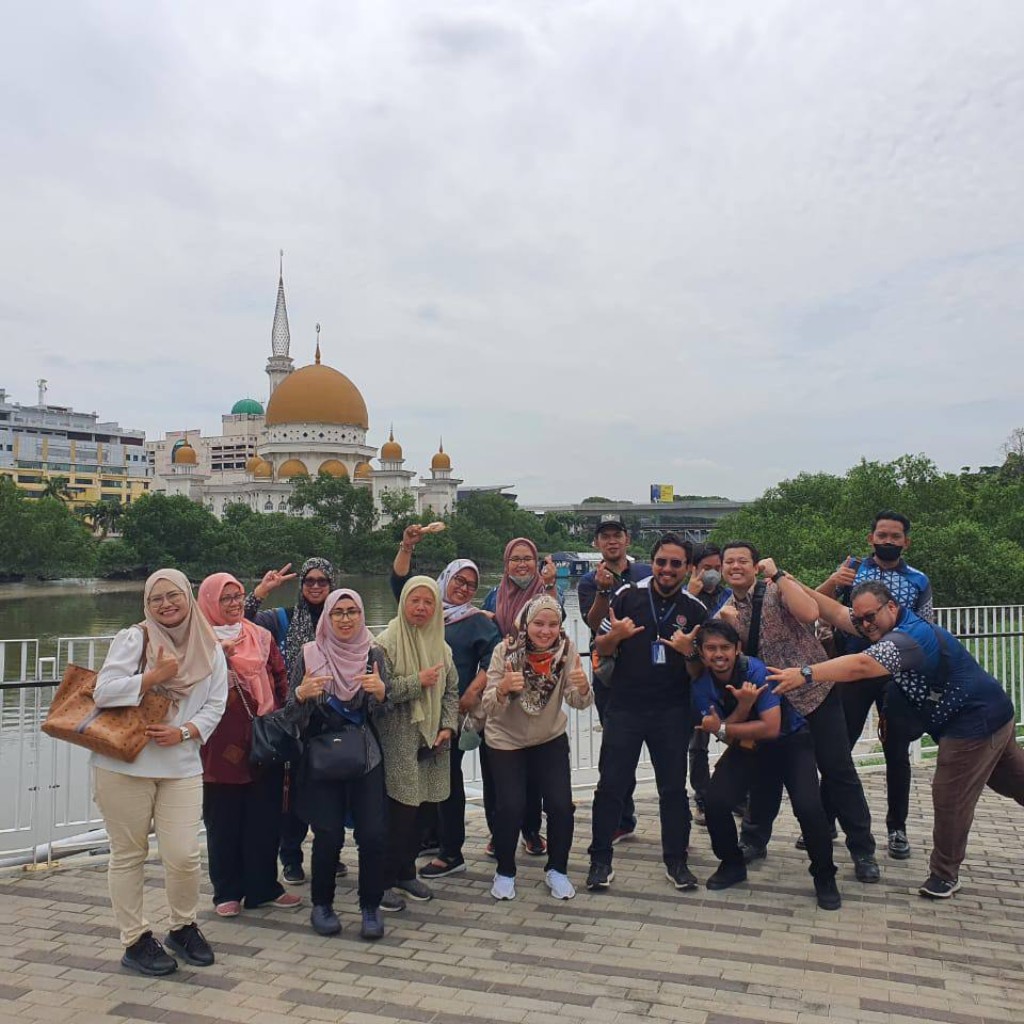 08/09/2022
On 8th of September 2022, we brought representatives from Majlis Bandaraya Shah Alam from Dept.…
Load More